Alumni News |
Mar, 2019
Clare Kenny, If I was a rich girl at Kunst Raum Reihen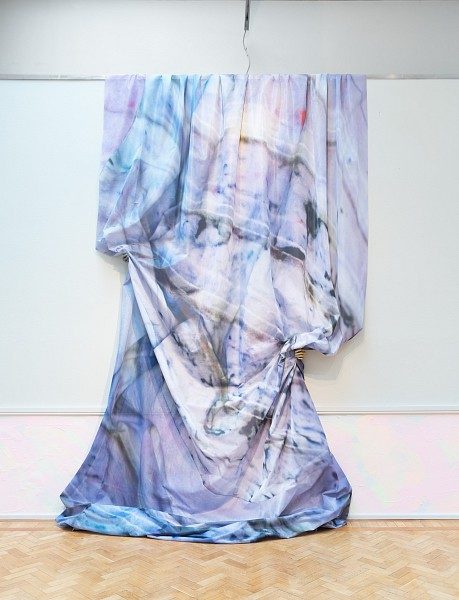 Clare Kenny, Peeping Tom, 2017, © Clare Kenny & Touchstones Rochdale
Clare Kenny, If I was a rich girl
Saturday, March 23, 2019 - Sunday, June 30, 2019
Kunst Raum Reihen
For her new exhibition at Kunstraum Riehen, artist Clare Kenny (b. 1976) is working on the subject of exhibiting in a comprehensive manner.
With the title "If I was a rich girl" Kenny invites with a generous gesture into her personal collection of works of art, which she borrows from well-known collections. Instead of dreaming about it, the born Englishwoman realizes her imagination and makes her real, if only for a limited period of time. As a framework for the lent works, she transforms the art space into a "better" version of himself. This, of course, with a wink; Kenny, master of the rhetorical form and practiced in the art of deception, creates in Riehen works that are realized both site-specific and in relation to the exhibits. With affordable materials and various interior design techniques such as marbling, wood grain, fresco and staffage, which has been used both in a contemporary and historical way to furnish and beautify rooms, it addresses the function of "furnishing". Kenny cites a series of codes that represent the dogma of particular social classes. An idea of ​​what "being rich" - or above all the dream of it - could mean aesthetically will give reason to look.
With works by Roger Ackling, Louise Bougeois, Heidi Bucher, Helen Chadwick, Valie Export, Guenther Foerg, Imi Knoebel, Wolfgang Tillmans and Josephine Wood.
Courtesy: Fotomuseum Winterthur, Fondation Beyeler, Galerie Gisèle Linder, By Bartha, Annely Juda Fine Art