Alumni News |
Apr, 2017
Brooklyn's Finest co-curated by Elodie Castaldo at HOLYRAD STUDIO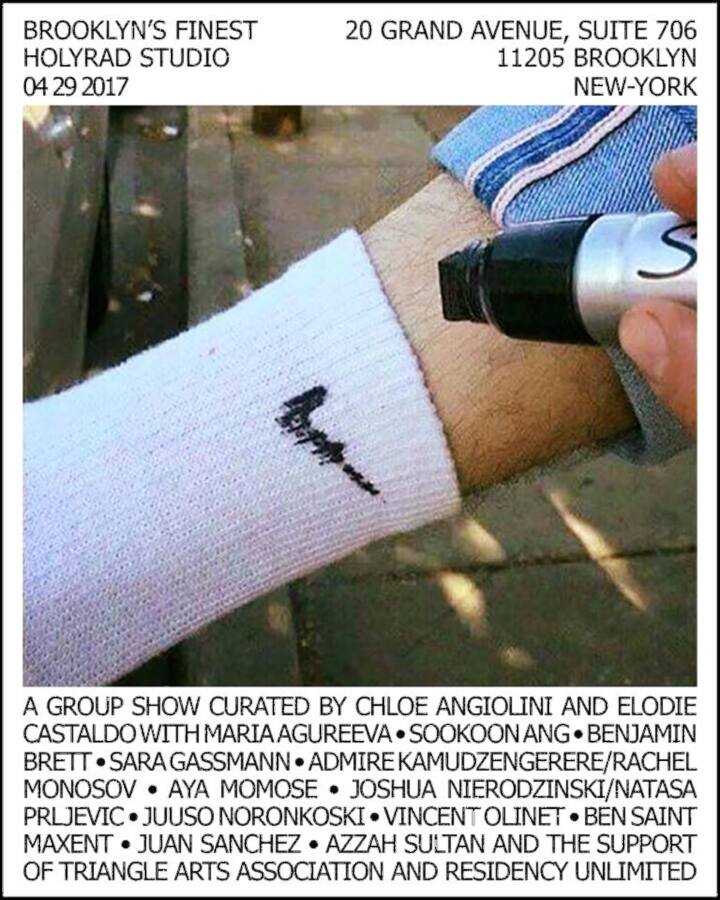 Opening Saturday April 29, 5-9pm
Projection of Sookoon Ang's video Exorcise Me (2013) at 7pm and 8pm
HOLYRAD STUDIO
20 Grand Avenue, suite #706
11205 Brooklyn NY
This pop-up exhibition is curated by RU Intern Elodie Castaldo and Chloe Angiolini in collaboration with artist Ben Saint-Maxent.
Brooklyn's Finest is a collaborative project developed during a one-month residency at Holyrad Studio. It encompasses a group show and an art book that will be published in France. It features works by international artists who are current residents at Triangle Arts Association and Residency Unlimited (RU).
With: Maria Agureeva (Russia), Sookoon Ang (Singapore), Benjamin Brett (UK), Sara Gassmann (Switzerland), Admire Kamudzengerere (Zimbabwe) & Rachel Monosov (Israel), Aya Momose (Japan), Joshua Nierodzinski (NYC) & Nataša Prljević (NYC/Serbia), Juuso Noronkoski (Finland), Vincent Olinet (France), Ben Saint-Maxent (France), Juan Sánchez (Spain), Azzah Sultan (Malaysia).
RELATED: