RU News |
Oct, 2017
Bread and Salt: The Immigration Ban and Other Policies' Effects on Artistic Practice and Discourse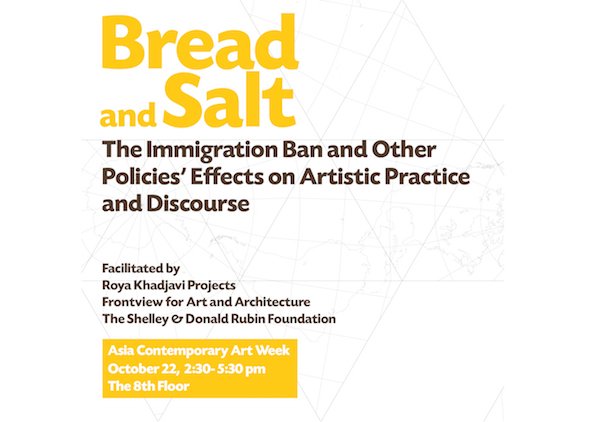 The Frontview for Art and Architecture, Roya Khadjavi Projects, and The Shelley & Donald Rubin Foundation invite you to The 8th Floor to break bread and share in conversation as part of Asia Contemporary Art Week 2017. Curated by Mohammad Golabi and Lalita Salander, the afternoon will consist of two panel discussions and a roundtable Q&A, exploring the challenges, needs, and possible approaches towards immigration from the perspective of cultural policy and management in New York City, offering an opportunity to work together on solutions. Featured panelists include artist Shahrzad Changalvaee; Felicity Hogan, Director of NYFA Learning; artist and journalist Siddhartha Joag, founder of artistsafety.net; Clarinda Mac Low, Director of Culture Push;  Laura Raicovich, Director of The Queens Museum; Sebastien Sanz de Santamaria, Director of Operations at Residency Unlimited; Laurel Ptak, Director of Art in General; and Diya Vij, Special Projects Commissioner's Unit, NYC Department of Cultural Affairs. Additionally, participating artists Rambod and Ramyar Vala will take part in the event by presenting a video essay and the program will feature a reading of a poem by Basim Mardan.
Middle Eastern and Eastern European cultures share a common tradition of welcoming guests with a symbolic offering of bread and salt. This folk tradition traverses Judaism, Christianity, and Islam. The exchange of bread and salt is an effective tool for social interaction and is based on the concepts of trust, acceptance, loyalty, and generosity. Throughout the program, breads from a variety of ethnic bakeries will be served in the traditional manners adhering to specific cultures' manifestations of exchanging bread and salt, culminating with a reception featuring an array of Persian delicacies.
Bios:
Participating Artists –
Basim Mardan is a writer, playwright and translator from Iraq. He holds a bachelor degree in Arabic into English, English into Arabic Translation and Linguistics. In Iraq, he worked as an interpreter for the joint civil authority in Mosul, published a book of poetry and wrote several articles for local newspapers, and was involved with civil society NGOs as a translator/editor and consultant to promote democracy and human rights in Iraq. Mardan was ICORN Writer-in-Residence in Skien, Norway 2006-2008, where he stayed until July 2016, when he joined PEN International as Writers at Risk Protection Officer in London.
Rambod Vala is an artist, graphic designer, and educator working with moving images and sound. His early education and practice was as a graphic designer in Tehran, where he is a member of the renowned "Studio Tehran." After moving to Chicago to pursue his Master of Fine Arts at the Northwestern University, where he was awarded a two-year fellowship, he has continued to work with video, installation, and various narrative structures which weave realism and fantasy, politics and romance, and skepticism and belief. His work has been exhibited in a multitude of international exhibitions, among those are Post-Past at Hermitage Museum in St. Petersburg. Vala has won The Prize for Typographic Excellence at The 2nd Chicago International Poster Biennial in 2010, and The Jury Award at The 5th China International Poster Biennial in 2011. Recently, he was awarded the runner-up prize from The Claire Rosen & Samuel Edes Foundation and the Luminarts Fellowship from the Luminarts Cultural Foundation.
Ramyar Vala received his primary education in Iran and Sweden. After receiving his bachelor's degree in graphic design, he exhibited a number of posters in several international biennales, including the Lahti Poster Trienniel/Lahti Art Museum, Moscow International Biennale of Graphic Design/Golden Bee 9, The 7th Trnava International Poster Triennial/Galéria Jána Koniarka v Trnava. In 2015, he received an MFA from the University of Chicago. Though still grounded in design and fabrication, his research tracks the functionality of crafted objects and the stories behind cultural ornamentation. Ramyar's multi-disciplinary practice explores the inner lives and circulation of traditional motifs— tracing how they travel, transform, are adapted, and are appropriated trans-nationally and trans-culturally — through sculpture, installation, and video work. His work has been shown in the Louvre (Paris), the New Museum (New York), Museum of Contemporary Photography (Chicago), EXPO Chicago, and the Yerba Buena Center for the Arts (San Francisco), among others.
Panel I –
Shahrzad Changalvaee is an artist. Her practice responses to sculpture in a vast field of mediums, including object making, installations, videos, texts and performances. She received her BA in Graphic Design from Faculty of Fine Arts, Tehran University in 2006 and her MFA in Sculpture from Yale School of Art in 2015. Shahrzad's works have been exhibited in different venues and galleries in Iran, UAE, Kuwait, Lebanon, China, Australia, UK, Canada and the US. In 2016, she mounted a two-woman show at Meyohas Gallery in New York and a solo show in Tehran at O Gallery. She has collaborated with other artists and collectives such as Dabireh Collective, which she was a board and editorial member. In summer 2016 she joined Bon-Gah collective as Co-Director. She currently lives and works in Brooklyn.
Sidd Joag is a NYC-based visual artist, journalist, and community organizer who has worked in the arts and culture, social justice, and human rights for over 15 years. He is presently a Commissioning Editor and Producer at ArtsEverywhere.ca and a coordinator of ArtistSafety.net, prior to which he was Program Coordinator for freeDimensional, supporting artists, culture workers, and communicators facing persecution internationally. Sidd has an MSc in Sociology from the London School of Economics and a MS in Documentary Journalism from Columbia University. He is a member of Amber Art and Design, a Philadelphia-based public art collective.
Clarinda Mac Low was brought up in the avant-garde arts scene that flourished in NYC during the 1960s and '70s. She started out working in dance and molecular biology and now creates participatory installations and events that investigate social constructs and corporeal experience. She is Executive Director of Culture Push, an experimental organization that links artistic practice and civic engagement, and co-curator of Works on Water, a triennial of art that works on, in, and with the water. Other work includes Walking Distance, where participants walk and talk about walking and talking, and the power of one human body; Incredible Witness, where differences in sensory perception lead to empathic understanding; and The Year of Dance, an anthropology of the NYC dance world. Mac Low has had residencies at the MacDowell Colony, through the Society for Cultural Exchange in Pittsburgh, Yaddo, and Mount Tremper Arts, among others. Grants and honors include a BAX Award; a Foundation for Contemporary Arts grant, 2007; and a 2010 Franklin Furnace Fund for Performance Art grant. Mac Low holds a BA in Dance/Molecular Biology from Wesleyan University and an MFA in Digital and Interdisciplinary Arts Practice from CCNY-CUNY.
Sebastien Sanz de Santamaria has been living/working in New York City since 2001. During which he was closely involved with the artist-run organization and arts collective Flux Factory. He was Assistant Director of the International Residency Program at Location One. In 2009, together with Nathalie Angles, he co-founded Residency Unlimited as an artist-centered organization dedicated to producing customized artist residency structures to support the creation, presentation, and dissemination of contemporary art. Present key projects include the development of a new information platform called res under the framework of the NEW INC Incubator program and the creation of the New York City Artist Safe Haven Prototype, a multi-organizational artist residency program designed to house, integrate and nurture artists at risk. After completing a preparatory year at the Academie Julien, Peningen (Paris) in 1997, Sanz de Santamaria received a BFA from the Ecole de Beaux-Arts de Montpellier District in Montpellier, France.
Panel Two –
Felicity Hogan was originally trained as an artist. Since residing in the United States, she expanded her skills to arts administration and curating with over 15 years' experience in commercial, alternative and non-profit spaces. Hogan is Director of NYFA Learning at New York Foundation for the Arts (NYFA) where she manages and provides professional development programs for artists and arts administrators in all disciplines.  She is committed to fostering community and supporting the arts through numerous activities at institutions in New York and nationwide, including her presence on advisory boards at EFA Project Space and Culture Push in addition to regular participation in selection panels such as New York State Council on the Arts. Hogan participated in Coro NY's Immigrant Civic Leadership Program and previously participated in the NAMAC's Leadership Institute for Visual Arts Organizations across the United States.
Laurel Ptak is an internationally-recognized curator of contemporary art based in New York City. For over a decade she has worked closely with diverse contemporary artists on forward-thinking and experimental projects. She has organized countless exhibitions, public programs, residencies, and publications together with artists, collectives, thinkers, and curators. Her projects have garnered numerous awards, fellowships, and press for their engagement with timely issues, tireless originality, and commitment to rigorous artistic dialogue.
She has worked at major non-profit art institutions in New York City and abroad. Previously, she was Curator at Tensta Konsthall in Stockholm and Curatorial Fellow at Museo Tamayo in Mexico City. She has also held roles in New York inside MoMA PS 1's Education Department and Guggenheim Museum's Publications Department. From 2014–17 she served as Director and Curator of the artist-founded space Triangle in New York City and is widely credited with renewing the institution on every level, including more than doubling its operating budget and strengthening its ties within a global network of artist-founded institutions throughout Africa, Asia, the Americas, the Middle East.
Laura Raicovich is President and Executive Director of the Queens Museum. She is a champion of socially engaged art practices that address the most pressing social, political, and ecological issues of our times, and has defined her career with artist-driven projects and programs. Prior to this appointment she directed Creative Time's Global Initiatives, served as Deputy Director at Dia Art Foundation, and held positions at the Guggenheim and Public Art Fund. She is also a writer and lectures internationally. She is the author of At the Lightning Field (Coffee House Press) and A Diary of Mysterious Difficulties (Publication Studio 2014) and co-edited with Carin Kuoni and Kareem Estefan Assuming Boycott: Resistance, Agency, and Cultural Production (OR Books).
Diya Vij is a cultural producer in New York City. She is currently the Special Projects Manager for the Commissioner's Unit at the New York City Department of Cultural Affairs where, in addition to managing several other new initiatives, she launched and co-directs the new Public Artist-in-Residence (PAIR) program that embeds artists in city government in order to address pressing civic challenges through creative practice. Prior to this position, Vij was the Communications Manager at the Queens Museum from 2011-2015. She has an MA in Art History from Hunter College and a BA from Bard College.
Program Facilitators
We are Frontview, a team of facilitators, curators, and writers operating to create artistic political encounters on meaningful scales, creating new relationships and intensifying existing ones. Our conceptual base is Buckminster Fuller's Dymaxion map: a map that has no "correct" positioning, in which there is neither an up nor a down nor cardinal points of any kind. Frontview is a house representing a new form of art institution. Within the canopy of our home, we dedicate ourselves to hosting artists, thinkers, architects, activists, scientists, engineers and more to have a domain where they can foster their work collectively in and out of artistic concerns and practices. We integrate all mediums in a space that gives them the liberty to speak freely. Together we aim to actively create our futures rather than idly let the future happen to us. The collectives core team of curators are Mohammad Golabi, Patrick Jaojoco, and Lalita Salander.
Roya Khadjavi Projects largely focuses on the works of young Iranian artists working both in Iran and beyond it's borders, seeking not only to support their artistic endeavors but to also facilitate awareness and cultural dialogue between artistic communities. Our mission is to educate and cultivate the audience in the United States and to present and showcase young Iranian artists with emerging artists from other parts of the world who share similar backgrounds, philosophy, and social and political experiences. Our task is to demonstrate what happens when will power and culture is used to bring us together.
RELATED: