Alumni News |
Dec, 2016
Antonia Dias Leite, "Eternal Return", solo show at Paço Imperial Museum in Rio de Janeiro.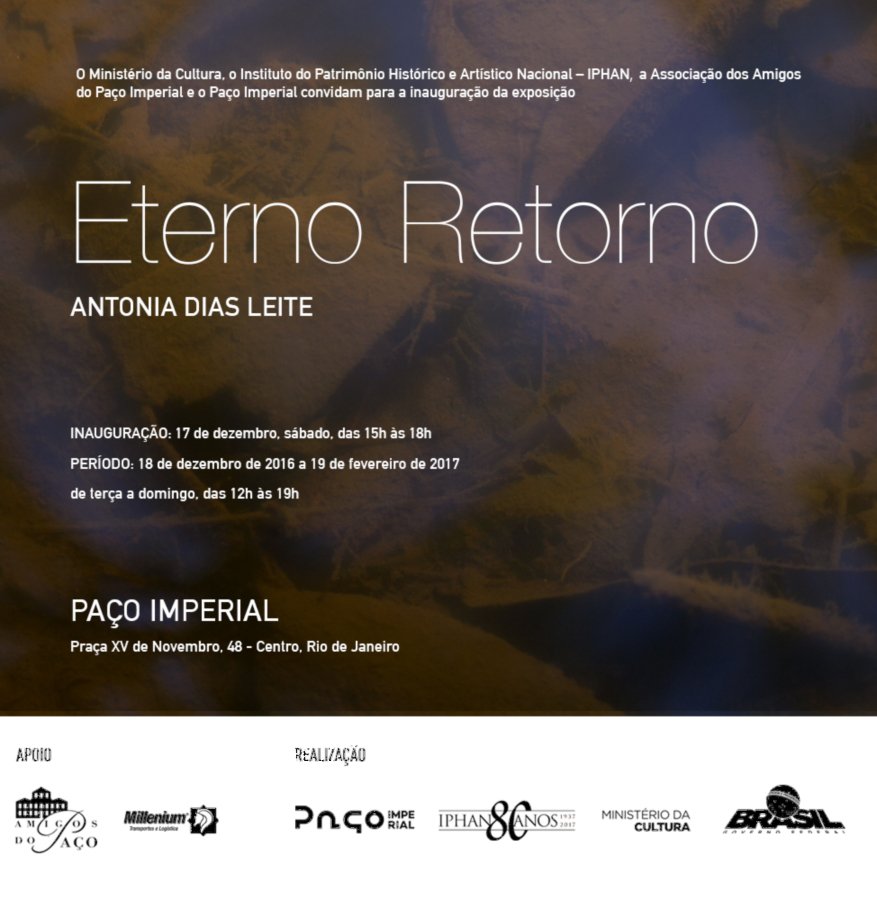 Antonia Dias Leite began her relationship with the photographic image during her youth, exploring its limits and possibilities through a research that oscillates between representation and abstraction.
The result of a project carried out over the past two years will be presented in "Eternal Return", a solo show which opens on December 17 at Paço Imperial Museum in Rio de Janeiro. 
The 36-year-old artist will present 10 
photographs
 and a video installation.
"This series is a visual research that talks about the relationship between the ethereal and the material.
The narrative structure of the work is inspired by 
dream
mechanisms, where images connect fluidly through free association," explains the artist.
In the first room of the exhibition, the photographic series acts as a transition that guides the viewers towards the second room, 
a dark space enclosed by a velvet curtain, creating a kind of cave, where the video installation transports them to an immersive audio-visual experience (with an ambient soundtrack also 
created by the artist).
"It is in this alchemical concept of permanent and circular transmutation that Antonia Dias Leite brings the inquisitive and visceral power of her visual journey towards the deep layers of the human subconscious, where the real and the surreal touch and reconcile, in a constant process of creation, d
estruction and renovation." comments journalist Fabiano Post in the introduction text about the show.
Antonia Dias Leite was born in Rio de Janeiro, but it was during the 10 years she lived in New York that she decided to pursue her 
career
as a full-time artist. In 2009 she finished her master's degree in photography and video at NY's School of Visual Arts, with Vik Muniz as his thesis advisor.
Since then, she has exhibited at international institutions such as Beijing Biennial (
Beijing)
,   Centro Cultural Banco do Brasil (Rio), Grimmuseum (Berlin), 
Stephan Stoyanov Gallery (NY), Galeria 
Leme (SP), Arte in Sarpi Festival (Milan), Videoformes Festival (Clermont-
Ferrand).
 H
er work has been featured in Vogue Italia and in The New York Times, where Roberta Smith called it "mesmerizing."