Alumni News |
Oct, 2018
Anne Percoco presents "Parallel Botany: The Study of Imaginary Plants"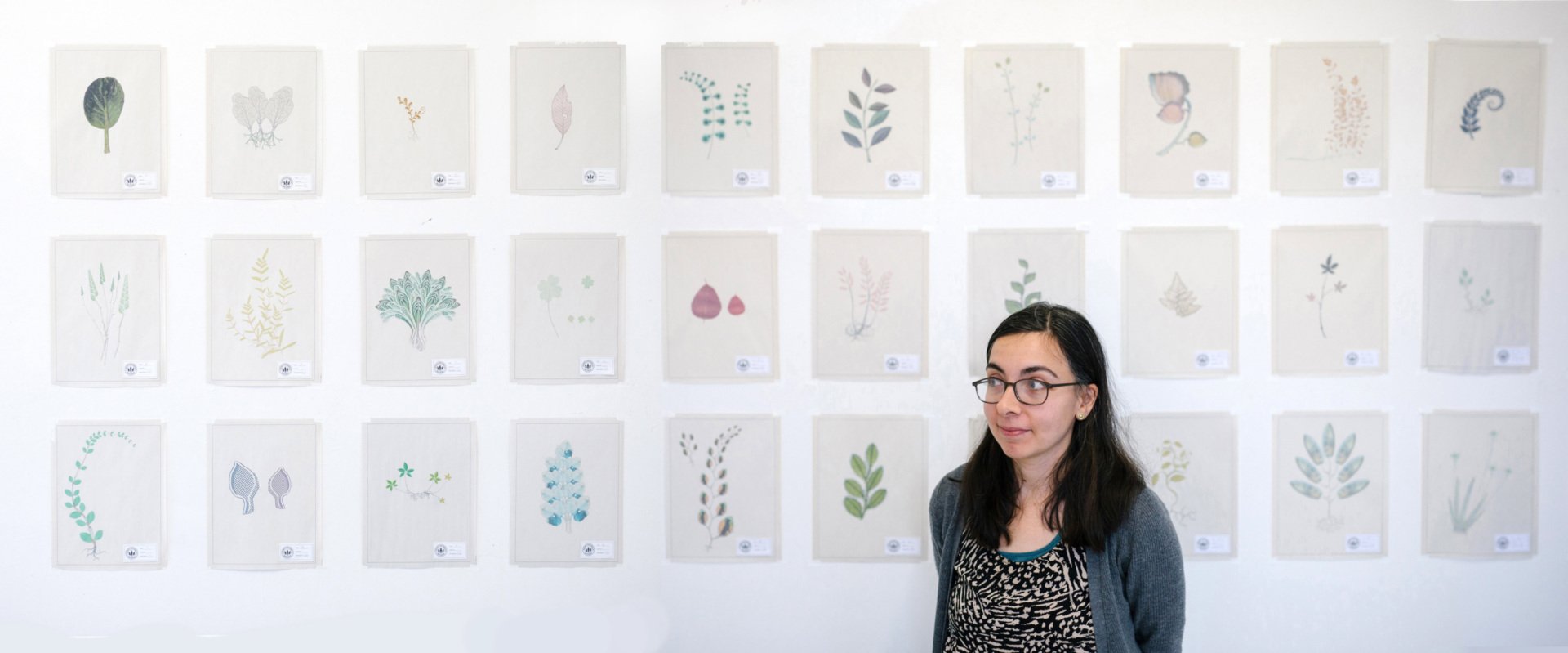 Casa Colombo (2nd Floor Gallery, 380 Monmouth Street, Jersey City, NJ)
November 1 - December 16, 2018
Opening: Thursday, Nov 1, 6-8 PM
Anne Percoco's exhibition at Casa Colombo of Jersey City explores the field of Parallel Botany: the study of imaginary plants. Inspired by Leo Lion's book of the same title, Percoco has gathered and cataloged an herbarium of invented species through a series of 70+ drawings and collages. Also included in the exhibition is a live Italian plant and take away seed packets, as well as an artist book.
The artists explains: « As city-dwellers, we only occasionally come in contact with wilderness, yet we frequently see icons and symbols of nature in packaging, advertisements, and decorations, such as the abstract leaf on a disposable coffee cup. I conceive of these symbols as colonizing our mental landscapes, supplanting real vegetation in our concrete jungles, and replacing extinct species. »
Percoco has gathered found samples of botanical imagery (from consumer detritus and other myriad sources) and used them as collage material in these works on paper, yielding plants which appear plausible at first glance, but break down upon examination. For example, some plants are digitally pixelated, some are abstracted, and some contain images within the leaves. Yet, she says, « although these species are entirely invented, they came about through observation of the morphology of real vegetation. These collages are, for me, an investigation of plantness ».
The thistle, carduus pycnocephalus, is native to Italy but is considered invasive to the United States. Percoco, a fourth generation Italia who is seeking dual citizenship by descent, is thinking through nuanced questions of invasiveness, displacement, and relocation, for plants as well as human culture. In this way, the artwork exists in dialogue with Casa Colomno's documentation of the historic Italian immigrant community in New Jersey. Also at play is the legacy of Casa Colombo's namesake and the role of colonialism in the Columbian exchange - the massive, global exchange of plants and people that has lead to the mixing and matching of ecosystems around the world - echoed in Percoco's fantastical species.