Alumni News |
Apr, 2017
Andrew Ross' First Solo Exhibition-Holes at False Flag Gallery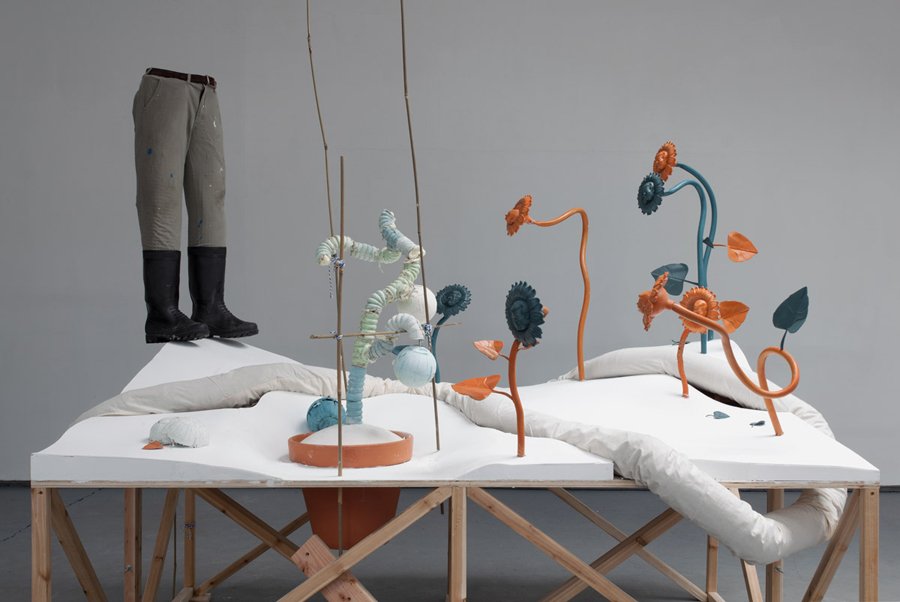 April 15 - May 15th, 2017
False Flag
25-20 43rd Ave
Long Island City, NY 11101
Ru alum Andrew Ross will have his first solo exhibition Holes, at the False Flag gallery.
Through three sculptural vignettes, Ross unpacks and reimagines traditional notions of landownership, gardening, and agency—all within the context of a rapidly-developing community facing an uncertain future.
The anthropomorphic feet of a giant mole confront first. Splayed out on a rough table in the smallest room, seemingly cast aside, the earthen clay of his body visibly cracking, the fate of this creature is unclear. For the central gallery, Ross creates an undulating landscape populated with sunflowers bearing the face of Neil deGrasse Tyson. A landowner— played by a stiffened pair of pants—discovers his garden infested. A youthful, reclining figure occupies the final room. Scaled up to heroic proportions, & composed of the same crumbling materials as the mole, only a truncated portion of the body is shown. Contemplating an apple, the young man reads as both Newtonian and biblical.
The elevation of all three works brings viewers to the liminal space both above and below the surface. With Holes, Ross distorts gravity, narrative, and the shape of the earth itself.
Andrew Ross (b. 1989, Miami, FL) has exhibited at The Drawing Center, Artists Space Books and Talks, The James Gallery at CUNY Center for the Humanities, Signal Gallery, and The Studio Museum in Harlem. Following his production at False Flag, he will present solo projects at Clima Gallery in Milan and American Medium in New York.
RELATED: