Alumni News |
Nov, 2014
Andres Carranza – TERRITORIAL MARKING, Klemens Gasser & Tanja Grunert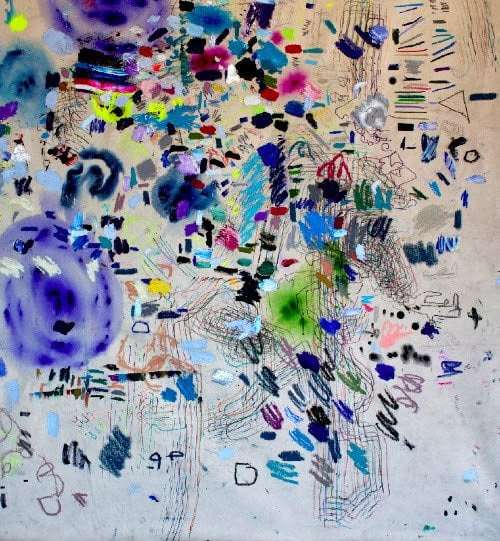 Andres Carranza
TERRITORIAL MARKING
Curated by Mitra Khorasheh & Elise Herget
November 21 – December 21, 2014
Opening Reception: Friday, November 21, 6 – 8 p.m.
Andres Carranza, Meraki (detail), Oil paint and mixed media on canvas, 2014. Courtesy of the Artist and the Gallery.
Klemens Gasser & Tanja Grunert Gallery is pleased to announce the opening of the second part of Andres Carranza's exhibition Territorial Marking, a solo exhibition curated by Mitra Khorasheh and Elise Herget. Territorial Marking is about painting, the pure performative act of painting itself. The exhibition is durational and conceived in two parts; the first half of the exhibition presented a site-specific installation in which the artist transformed the gallery space into a three-dimensional seamless canvas. For Part II of the exhibition, the installation will be converted into an exhibition of paintings. Territorial Marking will be on view from November 21 through December 21, 2014. An opening reception for the second part of the exhibition will be held on Friday, November 21, from 6 – 8 p.m.
ARTIST TALK:
Andres Carranza in conversation with Kathy Battista
Please join us on Sunday, November 23rd, from 5-6:30pm, to hear Andres Carranza discuss his painterly process with Kathy Battista.
FORTHCOMING CATALOGUE:
A fully illustrated catalogue will accompany the exhibition, featuring an essay by Morgan Falconer, and Foreword by the exhibition curators Mitra Khorasheh and Elise Herget.
ABOUT THE ARTIST:
Andres Carranza was born in 1975 in San Jose, Costa Rica and currently lives and works between Costa Rica and New York. Trained as an architect, his work can be positioned at the junction of art and architecture, as his artistic practice embraces material and space as primordial elements within specific environments. Carranza studied Architecture at the U.D.I Universidad del Diseño, Costa Rica and Film at Universidad Veritas, Costa Rica. Since 1999, his work has appeared in solo and group exhibitions internationally. He represented Costa Rica in the 25th Sao Paulo Biennale, and received the second Grand Prize in the 2nd edition of the Central American Biennale. In 2003, he gained recognition for his video works in Central America's first video art exhibition Inquienta Imagen. His work, which has grown to encompass video, installation, sculpture and recently painting, has been exhibited in Spain, Dominican Republic, China, Panama, Brazil, London, the United States and Costa Rica. In 2014, Carranza was awarded residencies at Pioneer Works Center for Art and Innovation and Residency Unlimited in Brooklyn, New York. This is Carranza's first solo gallery exhibition in New York City.
Klemens Gasser & Tanja Grunert
33 Orchard Street
(Between Hester and Canal)
New York, New York 10002
http://gassergrunert.net/
RELATED: