Alumni News |
Jan, 2013
Amelia Saul, in collaboration w/ Claude Wampler in: N'a pas un gramme de charisme, at The Kitchen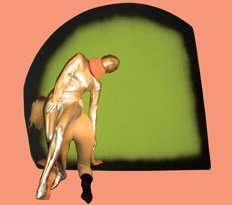 Claude Wampler: N'a pas un gramme de charisme.
January 31–February 2, 8pm
February 3, 5pm
N'a pas un gramme de charisme., Claude Wampler's much-anticipated next iteration of her line of artistic inquiry, continues her investigation of the value of liveness, prehension on prehension, and the stuntification of art by categorization. The work, which combines choreography, music, text and spectacle, brings into question the flexibility of audience expectation while seeking the emancipation of the spectator.
After Wampler's premiere and tour for her previous Kitchen show, PERFORMANCE (career ender), she concentrated on the fabrication of large-scale sculpture, which was exhibited internationally in museums and galleries. Claude Wampler believed that PERFORMANCE (career ender) had actually put an end to a particular aspect of her career, but then she met Amelia Saul.
Created in collaboration with Saul, as well as artists Antonius Wiriadjaja and John Tremblay.
To request attendance, email pascharisme@thekitchen.org.
RELATED: