Alumni News |
Apr, 2017
Almost Home curated by Shlomit Dror at Dorskey Gallery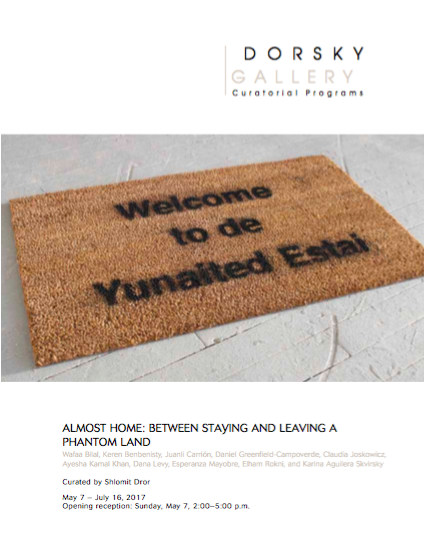 Opening Reception: Sunday, May 7, 2017, 2-5 pm
May 7 – July 16, 2017

Dorskey Gallery
11-03 45th Ave
Long Island City, NY 11101
RU alum Shlomit Dror will be curating Almost Home: Between Staying and Leaving a Phantom Land
, featuring the work of Wafaa Bilal, Keren Benbenisty, Juanli Carrión, Daniel Greenfield-Campoverde, Claudia Joskowicz, Ayesha Kamal Kahn, Dana Levy, Esperanza Mayobre, Elham Rokni and Karina Aguilera Skvirsky.
Biography:
Shlomit Dror is a curator working in Greater New York. She has organized group exhibitions including, In Her Eyes: Women Behind and in Front of the Camera, (Newark Museum, 2012), F_ll in the Bl_nk, (NARS Foundation, 2013), Ready or Not: 2014 New Jersey Arts Annual, (Newark Museum, 2014), Seeing through Abstraction, (Residency Unlimited, 2015), Story of A Story, (Smack Mellon, 2015), Esther Naor: The Object is Present, (A.I.R Gallery, 2015), and Partner in Crime, (Paul Robeson Galleries, Rutgers University, 2016). Dror held the positions as the Consulting Curator of American Art at the Newark Museum, Curatorial Assistant at the 2011 Inchoen Women Artists Biennale, and has also been at El Museo del Barrio, Félix González-Torres Foundation and the David Rockefeller Center for Latin American Studies. Her writings have been published in catalogues for the Newark Museum, CUE Art Foundation, Point of Contact Gallery, as well as online essays. She was a guest juror at Fresh Paint Art Fair in Tel Aviv, Visual Arts Center of New Jersey, City Without Walls among others, and has served as a visiting critic at Residency Unlimited, NARS Foundation, The Wassaic Project, Wave Hill Visual Arts Program and the Elizabeth Foundation. Dror received an MA in Museum Studies from New York University and a BA in Art History and Latin American Studies from Bard College. She also took part in Independent Curators International's (ICI) Curatorial Intensive program.
For more information on the exhibition: http://www.dorsky.org/#almost
RELATED: