Alumni News |
Jul, 2019
Alessandro Facente: UNSPEAKABLE CHAOS: INTERVIEW WITH WANG TUO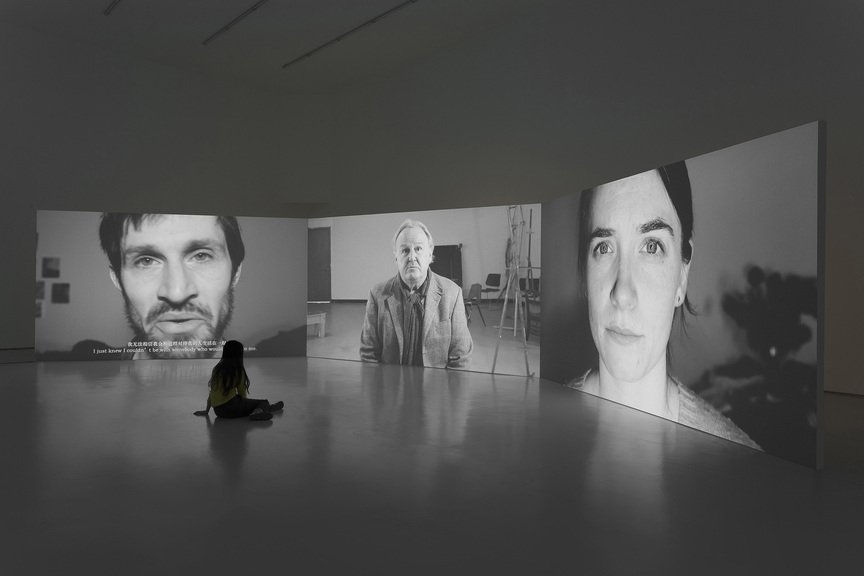 Installation view of WANG TUO's Real and Natural, 2014, three-channel, black and white HD video with sound: 13 min 49 sec, at "Myths We Don't Outgrow," White Space, Beijing, 2017. Courtesy the artist and White Space.
RU alumni, Alessandro Facente (2013) and Wang Tuo (2015) met in 2015 and have continued to exchange ideas and conversation ever since. Tuo recently visited NY  for his solo show at Present Co. and the two had a chat that led them to piece together all the thoughts that they had been discussing over the years. 
"Beijing-based Wang Tuo's video installations are visually rich, multi-narrative dramas. Trained as a painter at Beijing's Tsinghua University, Wang's practice took a turn when he began his Master of Fine Arts degree at the School of Visual Art, Boston, in 2013. There, prompted by French philosopher Guy Debord's critique of commodity fetishism, The Society of the Spectacle (1967), he began to create video works interweaving fiction and non-fiction, the dramatic and the humorous, incisively commenting on the dynamics and contradictions of human relationships. After graduating, Wang moved to New York, where he took part in various local residencies, hosted by organizations including NARSFoundation, Residency Unlimited, and the Queens Museum. In 2017, he left the United States and moved back to China—another transition that prompted him to re-evaluate his artistic practice.
Earlier this year, Wang visited New York for his solo show at Present Co., where he showed his latest work, Smoke and Fire (2018). I met with the artist on the occasion of the exhibition. Our conversation picked up with when we first met in 2015, and spanned Wang's past and recent projects, as well as his longstanding interests in topics such as overlapping realities, re-imagined spaces, manipulation, spirituality, psychology, emotions, and lived experiences."
For the full article please click here.
RELATED: