Apr 2010 | Activities: Performance
SEEKING MUSICIANS FOR THE HIGH LINE! JOIN THE WANDERING BAND – June 11/12/13 2010!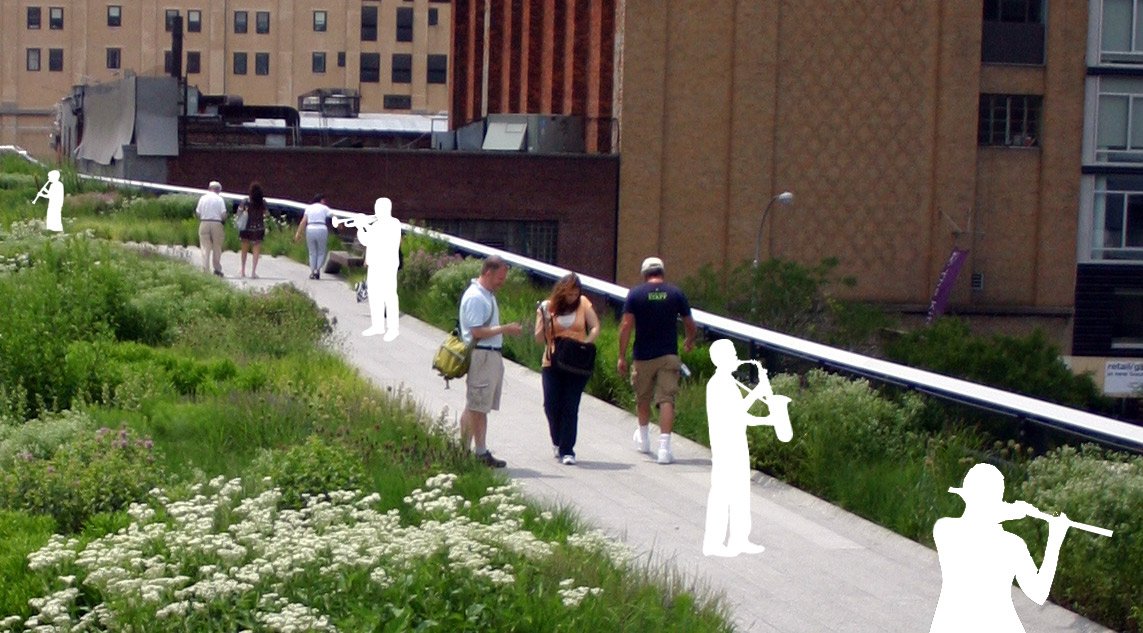 wandering_highline_silhouttes

WHAT:
We are seeking volunteer musicians, singers, and students to participate in Wandering Band, a series of public art performances on the High Line.
WHEN:

Friday, June 11, 6:00 - 7:30 PM
Saturday June 12, 12:00 - 3:00 PM
Sunday June 13, 12:00 - 3:00 PM+ Attendance at one information session is required prior to the performance.
PROJECT: Conceived by the artist Ana Prvacki, Wandering Band is an informal gathering of wind musicians, brass musicians, and opera singers who will complete their daily practice of scales, tonal, and finger exercises while strolling along the High Line. All participants will be instructed to walk at an andante pace and to engage in their solitary daily practice. Instruments must be portable and easy to carry. Wind and brass are ideal; lighter string instruments such as violins are also welcome. Wandering Band is part of a residency organized jointly by More Art and Residency Unlimited.
SUPPORTERS: The performance Wandering Band is made possible in part with public funds from the Manhattan Community Arts Fund, supported by the New York City Department of Cultural Affairs and administered by the Lower Manhattan Cultural Council as well as National Arts Council/Singapore.
CONTACT: Sebastien Sanz de Santamaria at Residency Unlimited: info@residencyunlimited.org or call at (917) 478 2694 for details.
*NOTE: We will attribute an honorarium of $100 to professional musicians who can participate during the 3 sessions. (see belw)
check out the Wandering Band in action at the Castello di Rivoli Museo d'Arte Contemporanea, 2009:
[youtube xt7-NRdTApk]