Artist Residency, Seoul, South Korea, RU Outbound Artist by David Kagan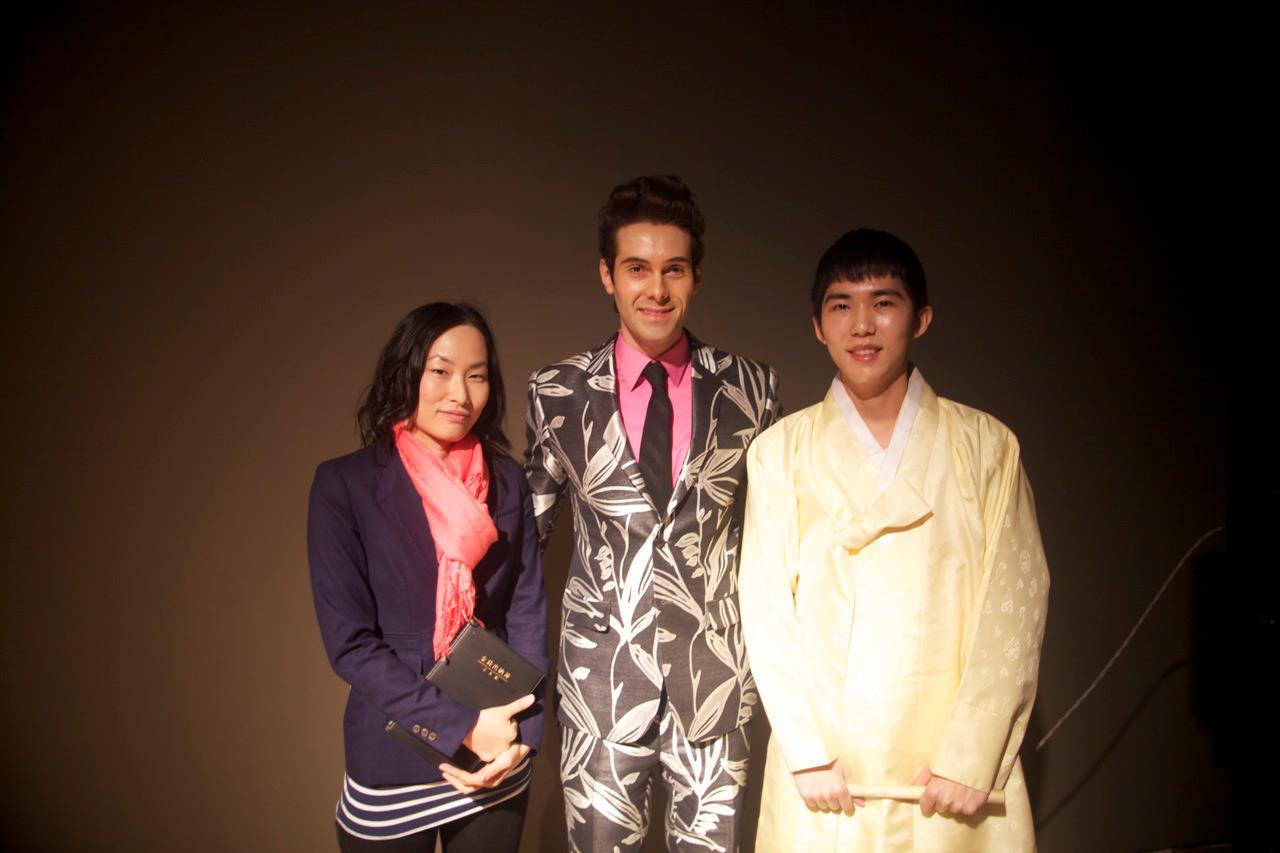 With drummer and translator after performance.
by David Kagan
During the months of September through November of 2012, I participated in an artist residency in Seoul, South Korea. This opportunity came about as part of an artist exchange between Residency Unlimited and Seoul Art Space Geumcheon, a Korean foundation fostering international visual art projects as part of a community-based cultural enrichment platform. Located in a manufacturing hub on the southwest edge of Seoul, the ultra-modern facility was once a factory itself. Opened in 2009, the space consists of twenty studios (six designated for international artists/fourteen for Koreans), two large galleries, a lecture hall, a soundproof studio, a communal kitchen, and bathrooms featuring heated toilet seats.
The five other international artists and I were tasked with an Urban Research Project, which loosely meant translating Seoul's history and physicality into a gallery context, with consideration for generational shifts, cross-cultural issues, the specificity of the manufacturing zone we inhabited, and the friction between the development of the large urban space and the sense of individuality of those who inhabit it. The residency culminated in an exhibition on November 28th in the SASG galleries, organized by visiting curator Ceren Erdem.
For my project, I used the vehicles of personal narrative and sound art to engage ideas of Korean history, myth, contemporary psyche, and urban space. I took special interest in pansori, a traditional form of Korean music involving a highly skilled vocalist who recounts fictive tales though song and spoken word. Such a performer powerfully evokes emotion through tone and rhythm, accompanied only by a drummer. This classic art form coincided with my recent mode of work, which involves both story telling and live vocalization. From here, I set out to compose a "conceptual pansori," which would blend Eastern and Western thought, and merge a multitude of narratives into one.
I spent much of September exploring Seoul – sneaking into the nearby factories at night to watch workers weld circuit boards and press plastic molds; getting lost in the maze of narrow lanes and old style buildings in Gwanghwamun; or bicycling along the Han River through Olympic Sculpture Park with its odd assortment of public sculpture. I carried my iPhone everywhere, and captured the sounds (and corresponding sights) of anything that struck my fancy. I began to organize and catalogue these audio clips on my computer – separating out the percussion, melodies, ambience, and voices; from here I started the process of composing music.
Concurrently to my travels, I had been researching the last queen of Korea, Empress Myeongseong. I was drawn to her at first by her tragic end, assassinated by the colonially-minded Japanese due to her pro-Western leanings. I chose to structure the lyrical content of my piece after the course of her life, which I divided into six chapters: birth, love, work, politics, death, and afterlife. Each section would become a song/movement that comprised the final piece. I then undertook interviews with local residents of Geumcheon, who happened to be band members that came to Seoul Art Space to rehearse; these people were an assortment of professional musicians, housewives, and office and factory workers. Of each, I would ask what the six words comprising the "chapters of life" meant to them personally. From these responses, mixed with a combination of Myeongseong's biography, the Korean mythical story of Shim Cheong, and my own autobiography, I constructed lyrical content to accompany the musical compositions.
Throughout my stay in Korea, the language barrier was a challenge, but I enlisted the help of several translators along the way. The interviews were conducted in Korean, and then translated into English so that I could form lyrics. From there, the words were translated back into Korean for the purpose of subtitles in the finished piece. The process of filtering text through layers of interpretation and remove, to me, underlines an important aspect of the project as a whole: many different, possibly divergent narratives, merging into one, sometimes self-contradictory storyline.
For the exhibition, I presented a three-channel video installation, entitled The Third Mini-Album, after the K-pop conceit of naming short albums thusly. Each screen hung vertically and rested on the ground, to suggest the human physicality of the three women slain at the assassination of Myeongseong. The images presented were a combination of iPhone visuals corresponding to sound elements, and footage shot of myself as The Traveler, my be-suited alter ego, inserted into various locations around Seoul, silently standing – observing and being observed.
For the opening event, I presented a live acoustic version of the six parts of The Third Mini-Album, accompanied by a traditional pansori drummer.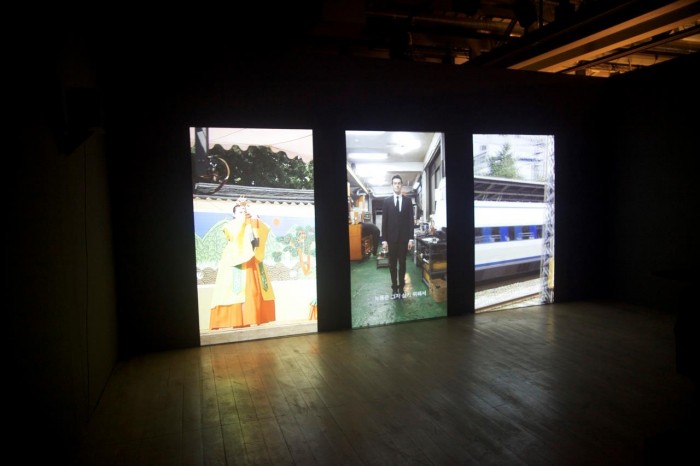 Installation view.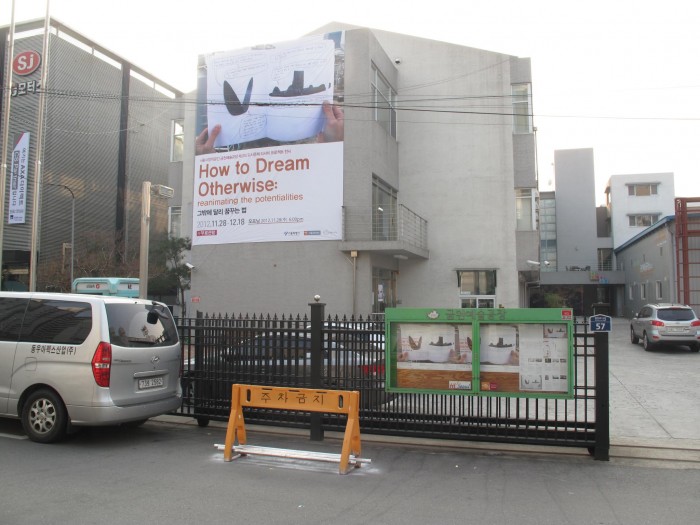 The facility, our show poster.
RELATED: