Press |
RU News |
Jul, 2013
RU 2013 Funraiser in "Pardon Me For Asking"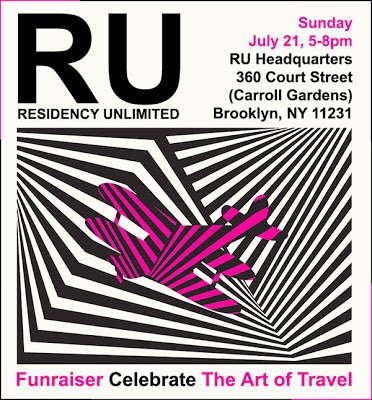 Originally posted in "Pardon Me For Asking" http://pardonmeforasking.blogspot.com/2013/06/residency-unlimited-on-court-street.html
Residency Unlimited (RU) at 360 Court Street at the corner of President Street, is holding a fundraiser on Sunday, July 21st. Housed on the ground floor of the former South Congregational Church, the not-for-profit artist-centered organization is "committed to promoting multidisciplinary practices and to building lasting connections between residents and the broader arts community locally and globally".
RU assists artists by customizing residencies, forming strategic partnerships with collaborating institutions, offering presentation opportunities, and providing technical assistance. RU also offers an exciting program of exhibitions, performances, and talks by artists in residence throughout the year. (See schedule here).
Make sure to check out this wonderful neighborhood resource.
Below are all the details pertaining to their fundraiser:
2013 RESIDENCY UNLIMITED FUNRAISER
Where: RU Headquarters, 360 Court Street, in Carroll Gardens Brooklyn
When: Sunday, July 21st from 5-8pm
Tickets – $75 / $150 / $500 Level Benefit Tickets
and $10 Raffle Tickets (do not have to attend to purchase)
http://www.residencyunlimited.org
You can buy tickers here
Acquire Artworks Donated Generously by RU Artists:
(Will be available for viewing starting June 20th)
Daniela Antonelli, Juan Betancurth, Sara Bichão, Mark Bolotin, Melissa Calderón, Claudia Cannizzaro, Yan Gi Cheng, Jagna Ciuchta, Paul DeMuro, Yana Dimitrova, Theo Edmonds, Zach Fabri, Guy Goldstein, Tomaz Hipolito, Ivana Ivkovic, David Kagan, Magnus Pettersen, Yann Pocreau, Vanessa Safavi, Otavio Schipper, Edward Schexnayder, Lucia Stranaiova, Eve K Tremblay, Marian Tubbs, and others.
And 15 Commissioned Artists Books on Travel by:
Brian Alfred, Julieta Aranda, Marc Bijl, Amy Bessone, Chantel Foretich, Phyllis Galembo, Rainer Ganahl, Richard Höglund, Jason Irwin, Wangechi Mutu, Clifford Owens, The Propeller Group, Rebecca Reeve, Xaviera Simmons, Letha Wilson.Bring a date, acquire some great work, win some amazing raffle prizes and support RU's year long public programs and customised residencies!
RU's 2013 FunRaiser celebrates "The Art of Travel," which reflects our incredible international reach. Hard to believe but since July 2009, we have hosted residencies for over 80 artists and curators from 37 different countries. Our achievements are thanks in no small part to friends and supporters like you!!!By purchasing a $500 level ticket, acquire an original artwork from one of RU's mega talented artists... the works will be available for viewing starting June 20th. First come, first served.
All level supporters are eligible to participate in our RAFFLE. RU commissioned 15 artists to create artists books from pre-existing travel books, with contributions by Phyllis Galembo, Wangechi Mutu, Amy Bessone, Rainer Ganahl, and Clifford Owens. By purchasing raffle tickets, you might also win a surprise filled suitcase conceived by Trong Gia Nguyen.
For the festivities, Richard Höglund will broadcast a live performance from the Swiss Alps. Food and drinks will be served in the church and special thanks to Runner and Stone, bakery extraordinaire....and other generous local vendors.
So no time to lose! Come mingle and start buying tickets today!
RELATED: